Back to On the Road with John Tarleton
Bicycle Fred: A Homeless Man Pedals Nader Message
By John Tarleton
October 2000
Boston—On the day before the first presidential debate between Al Gore and George W. Bush, Bicycle Fred was navigating through the narrow, winding streets of Boston's downtown financial district when a black stretch limousine eased up next to him in the lefthand turn lane.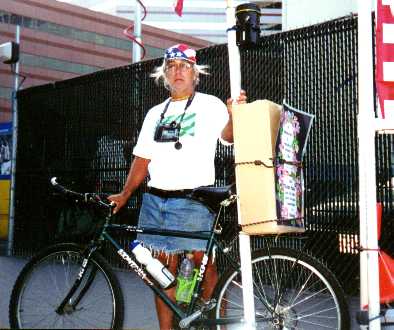 Bicycle Fred had ridden across America during the summer to promoting the rights of the disabled and the sanctity of an American flag he had recovered from an abandoned Coca-Cola plant in Salt Lake City. Now, he was towing an eyecatching 6'x10' homemade billboard behind him. It read: "Elect Ralph Nader President".
Nader, who is running as the Green Party nominee for President, had spoken to an enthusiastic crowd of 12,000 the day before at the new Boston Garden. And as one of the limo's opaque passenger windows rolled down, Bicycle Fred braced himself for some sort of condescending remark ("Get a job!"). Instead, a 40ish exec with curly black hair called out his support. "I like him," he said of Nader, before his limo turned left. "I'm gonna vote for him."
Bicycle Fred Crosses America
Bicycle Fred (a.k.a. Fred Mauney) is a restless, enthusiastic man. A 53-year-old native of Charlotte, N.C., he has the eager curiosity of one who is self-taught and a politician's intuitive emotional radar. Seven years ago he was struck down by transverse myelitis, a rare neurological disease similar to multiple schlerosis. He was paralyzed from the waist down and had to learn to walk again while spending two years in health care facilities.
Bicycle Fred left Salt Lake City on June 2 sporting his captured flag and a sign that read, "Ride for America: Let's Take Our Country Back". He had purchased his mountain bike at a local pawn shop in exchange for a computer that he had retrieved from a dumpster.
Bicycle Fred pedaled 40 miles per day and slept out by the road at night. He survived on occasional $5 and $10 donations, a $460 a month disability check and a stash of pb&j ingredients. Later in June, he passed through Denver during the Green Party's nominating convention. And he liked what he saw.
"Nader is his own man," Bicycle Fred said in his twangy, homefried Southern accent. "He's fought the big boys time after time. And, he's busted their ass."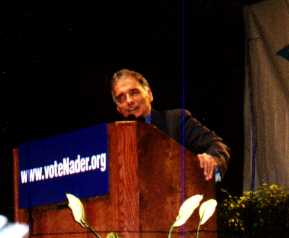 Wearing cutoffs, a red, white and blue ballcap and a pair of sneakers bandaged with duct tape, Bicycle Fred continued his journey across the Great Plains and the Upper Midwest. And, he explored what lay beneath the shiny facade of the "new economy"--struggling wheat farmers in Kansas, boarded-up storefronts in St. Louis, laid-off steelworkers in Pennsylvania, young people in Ohio working deadend sevice jobs.
"I feel like our country is being looted without a shot being fired," he says.
A Do-It-Yourself Ad Campaign
Bicycle Fred arrived in Washington, D.C. on Labor Day. Soon thereafter, he hitched the homemade Nader billboard to the back of his bike and began campaigning full time. As he pedals down the road, he replays previous conversations in his mind and hones his pitch to alienated voters.
"I test ways to say it," he says. "I think of ways to best reach the most people."
George Ripley, 57, director of the Washington, D.C.-based Americans for Social Justice, recently befriended Bicycle Fred. And, he applauds his do-it-yourself ad campaign.
"Anything to be original," Ripley said. "He's got a contraption. And there's humor in that. It's personable. I think Fred is onto something."
Bicycle Fred expects Nader to win handily, though most polls show him running at about 5% nationwide. Bicycle Fred's optimism was re-enforced by the turnout for Nader's October 1 super rally in Boston.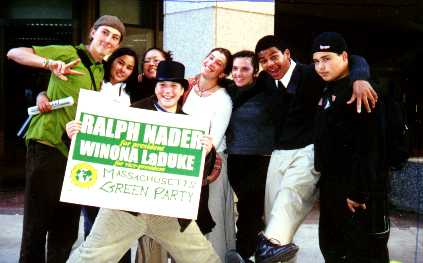 "He's getting 12,000 and the other guys are getting nothin'," Bicycle Fred said. "Where did those 12,000 people come from? They came from a distance and paid $10 a head. They're not going to go home and crawl in a hole."
On the following day, Bicycle Fred rode from Boston Harbor through downtown, making "a rackety-ass noise", and on across the Charles River to Cambridge. He was cheered on during his three-hour ride by construction workers and by Suits sipping cappucinnos at Starbucks, by the man in the limo and by ordinary pedstrians.
"He's being a leader," Ripley said. "Most people stay close to the pack. Fred's willing to stand alone."
Linda Setchell, 23, who works for a Boston environmental organization, also witnessed Bicycle Fred's performance.
"I thought it was really cool," she said. "People were cheering him as he went by. It was a way to get the message out without polluting the environment or spending a lot of money."
Bicycle Fred intends to keep on pedaling until election day. Next stop: New York City. And, he envisions legions of Greens bicycling for Nader in their hometowns as the election approaches.
"I'm on disability and don't have a pot to piss in," he said. "This is something a lot of people can do. They can go and build their own buggies and make their signs and ride around. If we had a thousand people out there, we'd really be gettin' somewhere."
Back to On the Road with John Tarleton