Back to On the Road with John Tarleton
Community Radio Advocates Air Their Concerns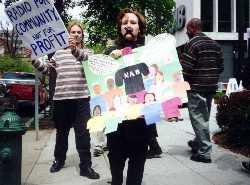 by John Tarleton
April 14, 2000
WASHINGTON—As Congress prepared to vote on the future of low-power FM radio, a group of local radio enthusiasts marched yesterday in front of the headquarters of the National Association of Broadcasters with duct tape over their mouths.
The NAB has lobbied heavily against a proposed law that would create a whole new class of low-powered community stations. The 20 or so protesters tried to present a Bad Neighbor Award to NAB Chairman Edward Fritts but were blocked by police barricades with a "Private Properety--No Trespassing" sign draped over them.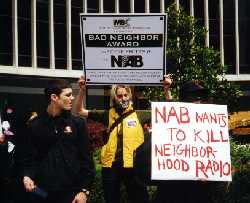 "I think this private property sign is pretty symbolic of what we are up against," said Amanda Huron of the Mount Pleasant Broadcasting Club (MBC). "The NAB won't let us use their private property today to present this award. Yet, they are willing to take up 90% of the public airwaves with their private commercial radio stations."
On January 20, the Federal Communications Commission bowed to public pressure and announced that it would begin licensing hundreds of new low-power stations. The new stations would vary in strength from one to 100 watts compared to 6,000 watts for the weakest FM station currently allowed. The range of these new stations would vary from one block to about three miles. The start-up cost for a new station could be as little as $1,000.
The MBC is based in a racially diverse, working class neighborhood a couple miles north of the White House. The Club was launched a couple of years ago by activists involved in Stand for Our Neighbors, DC Immigrant Coalition and Latino Leadership Institute. They envisioned a volunteer-run radio station with diverse, locally-oriented programming as the perfect tool for building a more vibrant community.
"The kind of radio we have now is for people who have money," said Jessica Alvarez of MBC. "People want to get on the airwaves and make their voices heard."
Building a Community Radio Station
Almost 200 people are now involved in the project, said Alvarez, whose parents fled from Guatemala during the 1970s. The all-volunteer group has set up various committees, runs itself by consensus process and does its fundraising in the community.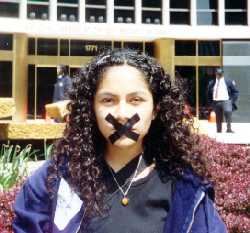 The club's founders taught themselves radio production skills and then began teaching others.MBC curently does several hours a week of webcasting as it prepares to apply in May to the FCC for a liscense for a 100 watt station that would serve the neighborhoods of Mt. Pleasant, Adams Morgan, Columbia Heights and Shaw. The Club has emphasized youth involvement and has been teaching students from charter schools including teen-age mothers. The youngest radio programmer is 10 years-old.
"People can't believe that something like this is possible," said Natalie Avery, "that they can have their own program."
Corporate Radio
The public airwaves have been dominated since the mid-1930s by private commercial interests. The Telecommunications At of 1996 further tightened the concentration of corporate ownership in radio.
Previously, a company could own a maximum of 40 stations nationwide and no more than two in one market. Now, a company can own an unlimited number of radio stations nationwide and as many as eight in one market. Three companies - Chancellor Media, Infinity Broadcasting and Jacor/Clear Channel Communications - now own more than a combined 1,200 stations nationwide. As of March 1999, five media conglamerates controlled 32 Washington, D.C. area radio stations.
Even as a deadening homogenization has fallen over Radioland in recent years, a pirate radio movement has been thriving just beneath the surface. The FCC has gone after low- power radio operators for years. Now, it seeks to regulate them. The new low-power stations would be required to be non-commerial and operated by people who live within 10 miles of them. Also, the new stations would only be able to operate on third adjacent channels so as to avoid any interference with established stations.
Still, the NAB has put up fierce resistance to low-power radio. In the name of defending "spectrum integrity", the NAB has donated over $1million in soft money to both political parties. And, its fingerprints are all over the 1999 Broadcasting Preservation Bill put forward by Rep. Michael Oxley (R-Ohio).
A system rooted in the power of wealth seeks to re-enforce itself at every turn. For Avery and the others, it has been a frustrating experience. Yet, they are determined to carry on.
"The only way there is going to be any change is from below," Avery said. "People in this country realize something is wrong. But, there's no space for people to come together to share these ideas and make them flourish so that they can build a movement to resist."
Links:
Interview with Stephen Dunifer, Microradio Pioneer
Radio4all