Back to On the Road with John Tarleton
Mexico City Earthquake Survivors Still Rebuilding 13 Years Later
April 1999
by John Tarleton
MEXICO CITY—Minerva Amaya was handing her 9 year-old daughter a cup of coffee when the earth began to shake and roll.
It was 7:20 a.m. and her husband had already left for his job at Mercado Merced in the center of Mexico City. After getting her two kids off to school, she was looking forward to taking her usual morning stroll to a nearby café to have a cup of coffee with friends she had known since childhood. The next day, September 20, 1985, was the birthday of her children's godmother and Minerva was making plans for a festive celebration.

But now, she looked out the window and saw buildings wobbling in front of her eyes. "I grabbed my daughter and my son and pulled them close to me," she recalled. "And I prayed to God to save us. I don't remember anything that happened after that."
Thirteen years later, Minerva and roughly 80 of her friends and neighbors are still looking forward to moving into their new house.
Rebuilding
Mexico City is built on top of a dried-out lakebed. 10,000 or more people were killed by the 1985 earthquake and thousands of buildings were destroyed or severely damaged. In the aftermath of the earthquake, Mexico's one-party state took a siesta. And grassroots organizations like Campamientos Unidos sprang up around the city.

Campamientos Unidos, which was founded by a charismatic social worker named Antonio La Paz, has helped rebuild over 400 houses since 1985. In the early days as many as 100 people at a time would gather at work parties to demolish crumbling walls, haul supplies, mix cement, etc.
"It was really nice," Minerva said. "There was lots of camaraderie."
Minerva, 44, is a bubbly, talkative redhead who has lived on the corner of Calle Heróes and Calle Luna her whole life. She is completely at home in Colonia Guerrero, a bustling neighborhood of small shops and modest apartment buildings located a couple of miles northwest of the city's center. Her husband, Eduardo, grew up across the street and they were married a few blocks away in Iglesia de Nuestra Senora de Los Angeles.
"I was headstrong and flirtatious," she said. "looking back fondly on her youth. "I liked to wear short miniskirts and go to dances. I must have had a different boyfriend every day. I calmed down a lot after I married."
Before the earthquake, Minerva and her family shared the 4-story apartment building with 27 other families. The top floor was severely damaged by the earthquake. But it was not until 1990 that the remaining residents were able to demolish the building and begin work on a new one.
Since then, the 11 remaining families have lived in nearby apartments or makeshift encampments while waiting to move back into their own homes. Foreign funding and technical support for Campamientos Unidos declined as Mexico was hit by other disasters, both natural and homemade. And, member participation waned with time. As people moved into their new homes, they conveniently forgot their obligation to help other members of the organization.
Mexican houses appear to always be under construction as families slowly accumulate resources to continue their work. It's a land where houses are crowned by jutting pieces of reebar not chimneys and shingle roofs. Standing in a narrow, labyrinthine hallway in the middle of the partially completed building that held the musty smell of freshly-poured concrete, Minerva was philosophical about years of slow but steady progress.
"We've been going at a turtle's pace," she said. "Advancing a little bit by little bit."
Losing a Home and Gaining a Window to the World
The rebuilding has continued going forward with the assistance of Casa de Los Amigos, a popular guest house in the center of Mexico City that was founded by the Society of Friends (i.e., the Quakers) in 1956.

The Casa supports various social service projects in and around Mexico City. It has channeled both material aid and international volunteers to Campamientos Unidos since 1987. There were volunteers from Portugal, Belgium, Australia and the US on site during the week I participated in the project. A week before, there had been a contingent of a dozen students from Gettysburg (PA.) College. And when volunteers finished their morning's work, Minerva and her friends were always ready with an ample lunch of black beans and tortillas, spaghetti, huevos a la Mexicana and lots of hot sauce.
"The contact (with the people) is great," said Bill Wensley, a traveler from New Castle, Australia who volunteered for four weeks. "It's really quite inspiring to see people come together to do something for themselves."
Roberto Cruz
Roberto Cruz, 26, is a quiet, methodical man who smiles while he works. A native of Colonia Guerrero, he has learned a wide array of construction skills since the 1985 earthquake.
He says that the building's new foundation—made of tezontle, a red porous rock, and tepatate— should be flexible enough to roll with any tremor that shakes the ground underneath. He estimates the building is 80% complete and bravely forecasts that the rest of the work (finishing the third floor and the roof plus installing the doors, windows, water and electricity) will be finished by year's end.
"It would be just as difficult if we were building a house somewhere else," he said.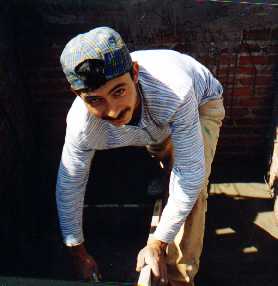 Minerva Amaya and the others purchased the lot on which the building stands in 1989 for 11,000 pesos (then equal to $3,500). When the work is done, they will own their homes outright. No mortgage man. And, Minerva plans to celebrate in style.
"Oh my God, we will have a huge party out in the street. We'll have lots of food, Mariachis, you name it. And, people from all the families will participate. It's a tradition. If not, the house will fall."
THE END
JT/1999
Back to On the Road with John Tarleton