Harvard Living Wage Campaign Comes to Midtown Manhattan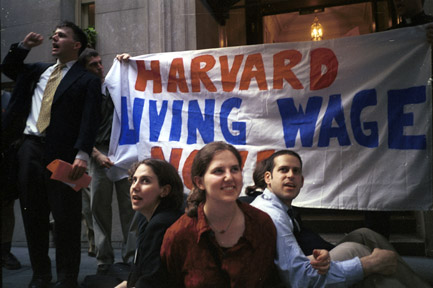 by John Tarleton
May 4, 2001
NEW YORK CITY—The Harvard Living Wage Campaign opened a second front late yesterday afternoon at 27 West 44th Street.
Fifty to sixty New York-based Harvard alumni held a sit-in, made impassioned speeches and passed out fliers at the venerable Harvard Club of New York. They came to express their support for a group of 35 or so students at Harvard that have occupied Massachusetts Hall for the past 16 days demanding that their university pay all its workers a living wage of $10.25 per hour. The New York alums also came to prod the consciences of their fellow Harvardites.
"We are here today to remind ourselves and our classmates that poverty and lack of dignity should not be the foundation of Harvard's economic existence," said Stephanie Greenwood (Class of '99)."...As Harvard Alumni we are privileged for the rest of our lives by virtue of the University's wealth of resources. We are outraged that this privilege is built on the backs of workers who cook, clean, build, and maintain an atmosphere of luxury in exchange for poverty wages."
The World's Richest University
Greenwood was one of six alums who sat down in the front lobby, formed a circle and locked arms. They were surrounded by supporters while other members of their group stood at the entrance passing out fliers and seeking petition signatures. Most of the protesters were young professionals who have graduated from Harvard in the past three years. However, there was a sprinkling of older alums on hand as well.
"I think this is great and I hope it will increase the pressure on Harvard," said Susan Cowell (Class of '75). "It's disgraceful that Harvard pays its workers so poorly. It's super rich and charges super high tuition. It's always been patronizing to its workers."
With an endowment of $19 billion, Harvard is the wealthiest not-for-profit institution in the world except for the Vatican. Yet close to 2,000 Harvard employees make less than $10.25 per hour, the living wage that the city of Cambridge, Massachusetts pays its municipal employees. Harvard's Progressive Student Labor Movement (PSLM) launched its living wage campaign on campus in 1998 and has repeatedly been rebuffed by the University. Most recently, Harvard President Neil Rudenstine has said that he will not begin negotiations with the students until they leave the building.
A contingent of unionized workers at the Harvard Club came out at one point to express their support for the sit-in and the Living Wage Campaign at Harvard. The protesters received a call via cell phone from their comrades at Mass Hall. Meanwhile, one bemused alum claimed he hadn't seen such an uproar at the Harvard Club since the University changed the wording of its diplomas from Latin to English.
Invisible Workers
Almost all Harvard students live on campus for four years and their every need is attended to. The employees are supposed to be invisible. But for those who refused to ignore their presence, the plight of the workers finally became unbearable.
"I think there's a real sense of shame, a sense of injustice," said Laurel Rayburn (Class of 2000).
Rosslyn Wuchinich (Class of '99) received a taste of what Harvard workers have to endure while cleaning dorms for several weeks as a part of her freshman year work study program. She quit after encountering a men's bathroom that was soaked with the stench of urine, had a sink coated in shavings, tubs of beer and ice water blocking the way and stacks of porn magazines on both sides of the toilet. Later, she moved off-campus to co-op housing.
"I felt like I was living in a hotel," she said. "Everything is structured there so that students don't have to think about anything but their studies."
Daniel Hennefeld (Class of '99) was one of the sitdowners. He attributed his presence, in part, to his Harvard education.
"I learned that Harvard is a really powerful place, that it has lots of money and prestige and it's a great thing to use that power and prestige to improve the lives of thousands of people," Hennefeld said.
Mark Engler (Class of '98) has been involved in anti-sweatshop and living wage campaigns for the past five years. He hopes the current battle at Harvard will have a galvanizing effect on campuses across the country.
"It's like Berkeley in the '60s where an action can resonate across the country," Engler said. "This is something that could be one of those signs of the times."
The protesters were not obstructing anyone and Robert Arnold, the Harvard Club's manager, made no effort to have protesters arrested. After an hour they left the lobby to go back out on the sidewalk. By then, Associated Press, The New York Times and the New York Post had shown up. More speeches were made and the group vowed to return to the Harvard Club and/or other New York City sites that have strong Harvard connections.
Note: The Harvard students ended their 21-day sit-in when university president Neil Rudenstine agreed to a moratorium on the out-sourcing of campus jobs while a 20-person committee of faculty, staff, students and workers reviews Harvard's labor policies.