Back to On the Road with John Tarleton
KOPN Hangs in There: A Small Community Radio Station Struggles to Survive in Mid-Missouri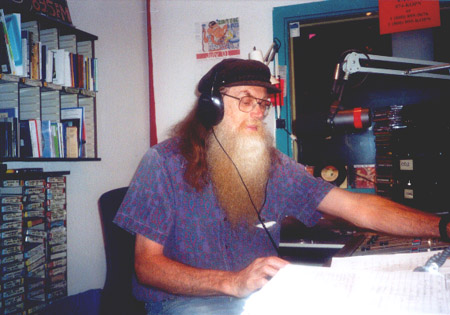 by John Tarleton
July 2001
Columbia, Missouri—July's monthly meeting wasn't an easy one for KOPN's board of directors. The small community radio station was set to lose its only two paid staff members at the end of the week. It was also struggling to pay interest on an onerous $28,000 bank debt. Another pledge drive would have to be held before funds ran out at the end of September. Only eight of 13 members were on hand. And, the board's acting president was stepping aside to spend more time on her job and with her 8-year old daughter.
"I'm burned out," said Cortney Daniels. "I can't keep up this pace."
The eight board members remained relatively unfazed throughout the three-hour meeting. It was another day in the labor of love that is community radio. The biggest surprise of all was that they still had a station to be concerned about.
The Rise of KOPN
Nestled in a cozy, second-floor office space at 915 E. Broadway in downtown Columbia, KOPN (89.5 FM) is the nation's eighth oldest listener-supported community-access radio station. When it went on the air in March 1973, it was the first station of its kind to appear in a small market. It was directly inspired by the success of the Pacifica Network and the vision of Lew Hill, Pacifica's founder. And, it quickly filled a gap bringing unconventional politics and music—reggae,blues, r&b, Celtic, salsa, bluegrass—to Mid-Missouri's airwaves.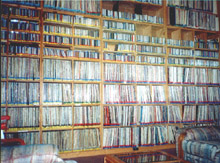 Starting out with a studio made of scrap wood and an air room soundproofed with egg cartons, KOPN grew precociously. It sponsored alternative street fairs, the Midwest Radio Theatre Workshop, the American Audio Prose Library (in which prominent authors such as Norman Mailer were recorded reading their own works) and provided live coverage of City Council meetings. With the help of its St. Louis sister station (KDNA) in St. Louis, KOPN expanded from 10 to 40,000 watts in 1975. In its first decade, the station trained over 800 volunteers, including, children, in radio technique. And the paid staff grew from zero to 15.
"KOPN was once the absolute center of the alternative universe here in Mid-Missouri," said Sharon Feltman, a current board member who has been a KOPN supporter since 1979.
Then came the '80s. Carter-era grant monies disappeared. Corporation for Public Broadcasting (CPB) guidelines required community stations to meet minimum standards for Arbitron ratings, annual fundraising and the number of full-time employees in order to qualify for federal monies. The "hippie paradigm" was out. The National Federation of Community Broadcasters, which KOPN helped to found in August 1975, was now pushing the Healthy Stations Project. Community radio stations around the country were being urged to professionalize their offerings.
"The station was under all sorts of pressure to start making more money," said David Owens, who was a volunteer and then a staffer from 1975-1993. "You could go to any number of radio conferences and have people telling you about having a niche and targeting audiences."
Hard Times
The internal strife and financial difficulties that nearly destroyed KOPN in the mid-'90s mirror in many ways the turmoil that has convulsed Pacifica in recent years. Starting in 1993, a succession of general managers with little or no ties to the community passed through the station. A professional staff was hired while the number of KOPN volunteers declined from 120 to less than 10. The station's traditionally eclectic music disappeared in favor of the tightly formatted playlists of the Adult Alternative Album ("Triple A") format. Premium prices were paid for nationally-produced programming from NPR (National Public Radio) and PRI (Public Radio International)
KOPN's revenues increased. But, not as fast as expenses.
"Healthy Stations was a scam," Feltman says. "Our move to the mainstream in the '90s almost killed us."
"The kinds of things that were happening here were happening everywhere," added Lee Ruth, a local folk musician who has been with KOPN since its inception. "We were undermined politically and economically. We'd raise $30,000 and we would be immediately sending off $20,000 to NPR in Washington and out of the community."
Come the summer of 1997, the station was $110,000 in debt to an array of creditors and on the verge of collapse. Several parties, including William Woods College (in nearby Fulton, Missouri), Premeir Marketing Group (which owns four other Columbia stations), the University of Missouri-based KBIA (91.3 FM), and a St.Louis-based chain of conservative Christian stations all expressed interest in assuming KOPN's debts (and its increasingly valuable radio license). While interested parties circled overhead and board members talked of how best to dispose of the station, the community rallied.
Emergency meetings were held in summer of 1997. Upwards of 150 people attended. Charlie Atkins, a Korea vet-turned-peace activist, donated $15,000 to help keep the sation afloat. A new board was installed. The majority faction opted to try and spend their way out of the crisis. The "Triple A" music was junked and more nationally syndicated public affairs shows (some of which were already running at the same time on KBIA) were added to form a continuous 13 1/2 hour bloc from 5:30 a.m. to 7 p.m.
"I think people thought they were going to come in and clean up this mess and they'd be seen as big heroes and then move onto better positions," Feltman said.
Instead, the financial crisis continued and the "grassroots" faction of the board assumed control in the spring of 1999. The general manager's position was replaced with a management team of three board members including Feltman. Nationally syndicated programming was scaled back to seven hours per day in favor of more locally-produced volunteer programming. The station won an $18,000 grant to replace its antiquated air room with a digital one. And, KOPN will again put out a newsletter in September. Annual expenses have been trimmed from $225,000 to $120,000 per year and the station's total debt has been whittled down substantially.
"There's been many, many people who've put a lot of energy into keeping this station going," said Ruth who sits on the station's new programming committee. "...(But) on a volunteer basis, we're really hard-pressed to do this. It's too much. You need people who can coordinate this thing."
Holding an Audience
Mike Colombo, KOPN's outgoing operations manager, wonders if the eclectic community radio station model can work. Columbia's airwaves are saturated. The quiet college town of 1973 is now a booming mini-metropolis of 110,000 people with over 20 radio stations. Audience research has shown that radio listeners prefer to tune into one station all day and don't like abrupt changes in programming.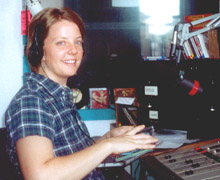 On weekdays, KOPN currently offers classical music from 5-8 a.m., nationally syndicated public affairs shows (Democracy Now!, The Diane Rehm Show, Fresh Air with Terri Gross, etc.) from 8-3 p.m., more music from 3-6 p.m., a couple hours of local public affairs from 6-8 p.m. and then a variety of jazz, blues, bluegrass, reggae, Grateful Dead and so on into the night. According to Colombo, the station has 2,000-3,000 listeners per week and roughly 800 listener-sponsors.
Colombo has worked in commercial radio and television and believes that KOPN needs to find a niche, unify its programming and hold onto its listeners.
"You'd need to look at the programming grid," Colombo said. "We'd need people who listen to NPR in the day to tune into the music at night...this station needs to bring in people who know radio and know what the business is about."
Mark Haim is a longtime community activist who hosts a highly regarded public affairs show on Tuesday evenings in the 6-7 p.m. time slot that used to belong to "Marketplace". He thinks KOPN can offer diverse programming and still retain audience if programs were arranged to flow into each other more smoothly and if the station did more "forward promotion" of shows that will be airing later in the day.
"There's a way to make use of some of the Healthy Stations suggestions but not implement them in the way that was done at KOPN," Haim said. "It's not either/or. You don't have to have a crazy quilt of punk, classical and then public affairs; or on the other hand blocs of numbingly similar programs that are tightly formatted."
Wanted: One Tireless Visionary
Starting with a clean slate, KOPN board members are hoping to find one full-time staffer (at roughly $12 per hour) who can be an inspired business manager/office manager/volunteer coordinator. Someone who is passionate yet reasonable; able to motivate others without being domineering and generate more funds while keeping the station relatively free of commercialism. Wanted: one tireless visionary.
"We're in one of those classic Catch 22 situations," said Carl Wingo, who became the board's fourth president in seven months at the July meeting. "We need to broaden and deepen our membership base to be able to hire more fulltime staff. And we need more fulltime staff to be able to broaden and deepen our membership."
Like a convalescing trauma patient, KOPN is out of intensive care (for now) and slowly mending. Whether it can regain its previous health and vitality ultimately rests in the hands of the community.
"Anything like this that's outside the mainstream probably has to struggle to survive," said Lee Ruth. "I think for alternative institutions in our country it's always been an uphill battle."
Meanwhile, the mostly middle-aged volunteers who are trying to nurse the station back to health have everyday jobs to work, bills to pay and families to raise.
photos: (above) Lee Ruth has been hosting "Radio Omega" on late Tuesday nights since 1976. (middle) One small corner of KOPN's vast music library. (below) A volunteer plays some music on Sunday afternoon.
Links:
KOPN
Radio4all
Pacifica Crisis
Back to On the Road with John Tarleton