Back to On the Road with John Tarleton
KTRU Supporters Hold Gag-in at Rice President's Mansion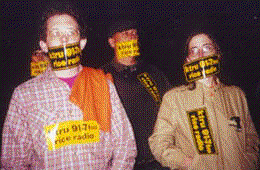 By John Tarleton
December 5, 2000
HOUSTON-An honor guard of gagged KTRU-FM supporters greeted the Rice University Board of Trustees last night as they arrived for dinner at the on-campus home of university president Malcolm Gillis.
The 130-140 protesters wore black and gold KTRU bumper stickers over their mouths. They stood silently, hands jammed in their coat pockets, on both sides of the circular driveway that approaches the two-story, red brick mansion. They were protesting the recent shutdown of the student-run radio station by university administrators. There was an eerie silence-broken only by the clicking of high heels-as each of the Board members and their spouses marched up the driveway and disappeared ("Why you're early. Hi Dottie! Hi Bob!") through the front door.


"I don't see how they can ignore this elephant in the corner," said Rodney Gibbs, a Rice (Class of '92) alum and former KTRU station manager who drove in from Austin for the protest.
Shutdown
The KTRU staff and officials of this prestigious private university located just south of downtown Houston have been feuding for months about how much sports programming should be offered on the eclectic, 50,000-watt station. Though student fees cover much of KTRU's $14,000 annual operating budget, Rice owns the FCC license. Tensions reached a head on November 28 when two student disc jockeys interrupted the broadcast of a Rice women's basketball game with songs such as "We Want the Airwaves" by the Ramones and "No Surrender" by Lickity Split. Two days later, at 7:57 a.m., Vice President of Student Affairs Zen Camacho and Assistant Vice President of Student Affairs John Hutchison pulled the plug.

Kristin Stecher, a sophomore, was playing a Miles Davis request when the station went off the air. Sitting alone in her pajamas, she thought at first that she had single-handedly broken the station. She began frantically looking for the instruction manual when Camacho and Hutchison arrived and told her not to bother. What she and other students had thought was a right turned out to be a privilege, and it was being revoked.
"I had heard all the things about the university taking over the station," Stecher said at a rally of several hundred students held earlier Monday on the Central Quad. "But somehow this was real. Here, live, in person, they are going to physically take the station."

Rice spokesman Terry Shepard said the action was overdue. "KTRU was operating without accountability to anybody; not to the students, not to the faculty, not to the administration," Shepard said. "It wasn't a free speech issue. You have a right to say whatever you want. But, you don't have the right to use my microphone. It's a free speech issue when the government tries to tell you what to say."
Outside Pressures
Johnny So, a senior from Pasadena, Texas who is KTRU's station manager, acknowledged that many of Rice's 4,400 students were unhappy with KTRU's loosely structured format and that their concerns should be addressed. But, he added, more fundamental issues were at stake.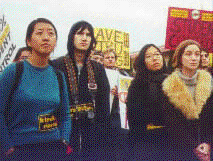 "It's not just a KTRU issue but a student rights' issue. It's a freedom of opinion issue," So said."It's how the administration is going to respond to student activism."
KTRU was cobbled together by students in the late 1960s as a two-watt station that broadcast from the basement of a campus building. It later grew to 650 watts and then to 50,000 watts in 1991. It has been student-run since its inception and Lizzie Taishoff, a senior from New York City who helped coordinate the "gag-in" in front of Gillis's home, was confident that the students would prevail, again.
"You don't give up 30 years," Taishoff said. "I'm a history major and the university has taught me that sometimes you have to go through a long struggle to achieve what you are seeking…I believe that the Board of Governors will do what is morally right and that is return KTRU to full autonomous student control."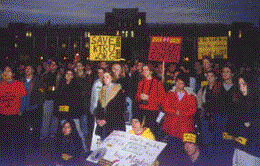 Alex Malinin, who managed the station in 1985-86, said that the Rice Athletic Department is the root cause of KTRU's current woes. Big time collegiate sports draw big time alumni donations. And according to Malinin, Rice is trying to colonize KTRU to aggressively promote its struggling athletics program.
"The University is taking the easy solution," Malinin said. "A student run station is there for the taking. And, they're exploiting the hell out it."
Links:
Save KTRU
History of KTRU Radio
Rice President's Statement
Radio4All