Back to On the Road with John Tarleton
Forest Defenders Halt Maxxam's Advance in the Mattole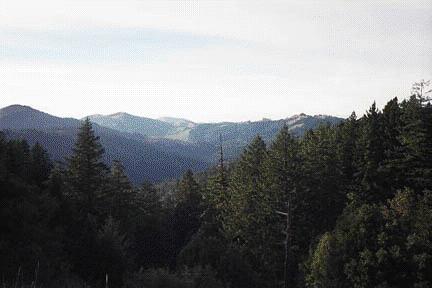 by John Tarleton
January 2001
People chaining themselves to cars and fences to block logging roads. Unlit, 12-mile hikes in blinding winter rainstorms. Makeshift encampments set up deep in the forest to defend towering Douglas firs which date back to when a handful of Spanish missions were the white man's only presence in California.
The Mattole is a rugged, breathtaking mountain valley on Northern California's Lost Coast. Located at the juncture of three tectonic plates, it is home to mountain lions, peregrine falcons, chinook salmon and one of the US's last completely wild rivers. Since November, forest activists have rushed to its defense, seeking to block planned clearcutting by Pacific Lumber, a wholly owned subsidiary of Houston-based Maxxam Inc. And with a bit of help from inclement winter weather, activists have managed to halt the company, for now.
"Our blockade has been completely effective in shutting down their operations since November 27 and 28," said Josh Brown, 29, an organizer for North Coast Earth First!.
"I Live Downstream..."
Pacific Lumber owns 14,000 acres in the Mattole, 3,000 of which are old-growth forest. The company received permission on November 9 from the California Department of Forestry to begin clearcutting the first of seven tracts of land totaling 350 acres. The Mattole is prone to heavy erosion as it receives as much as 200 inches of rain per year, has steep mountain slopes and is prone to seismic tremors. The eroded mountainsides end up in the Mattole River causing it to become wider and shallower, disrupting the life cycle of rare species of salmon and endangering the property of local residents.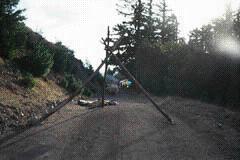 "I live downstream and I don't mean that in a hippie bumper sticker kind of way," said Beverly Leandro of the Mattole Forest Defenders.
Leandro's home is 80 feet from the riverbank. She was one of 20-25 activists whose presence in the woods thwarted loggers on November 10. By law, trees cannot be felled when non-loggers are in the forest.
Out-of-state loggers were ferried in by helicopter on November 27-28. This time they were accompanied by about 30 law enforcement officers from the Humboldt County Sheriff's Department and the Eureka (CA.) city police. A dangerous game of cat and mouse ensued.
"Sheriff's deputies were trying to herd us around, trying to re-establish control," Leandro said. "We would all be looking over at the loggers and they were sighing and exasperated because they not only had activists in the forest when they were cutting but now they had sheriff's deputies also."
The loggers managed to fell 30-40 trees before going home for the day, Leandro said. They haven't returned since to what activists have dubbed the "Mattole Free State".
Mary Bullwinkel, spokeswoman for Pacific Lumber, called upon the activists to leave the forest. "I think there comes a time when you have to accept the outcome of the legal process," she said. "This is how our society is based. This is how normal people work."
Brown, of North Coast EF!, was unapologetic. "If we weren't out there defending the forest, these trees would be on the ground," he said.
Takeover
Pacific Lumber, a fourth generation family run timber company, was purchased by Charles Hurwitz, CEO and majority stockholder of Maxxam, for $900 million in 1985. Pacific Lumber's holdings include 195,000 acres of forest in the heart of Redwood Country. The deal was financed by hundreds of millions of dollars in junk bonds. Hurwitz was also accused in a 1991 lawsuit (FDIC vs. Milken) of financing the deal with funds from United Savings Association of Texas, a failed S&L that he presided over from 1982-1988.
After the takeover, according to Leandro, cut rates of ancient redwood forests were tripled. Pacific Lumber has also become the largest user of herbicides in Humboldt County and has been cited for more violations of forestry regulations (over 250) than any other company in California. In one infamous company edict, Pacific Lumber's new management ordered that its loggers fell trees at knee level, instead of waist or chest, in order to capture a couple more feet of old growth timber. 15 years after it began liquidating many of its most valuable assets, the company is $700 million in debt.
"Where Maxxam has operated, it's been devastating," said Michael Evenson, 55, a former logger and board member of the Mattole Salmon Group, which has worked since 1980 to restore chinook and coho salmon to the Mattole River. "They (the loggers) are being driven quite hard to do a sloppy job."
Dissatisfaction with Maxxam/Pacific Lumber's practices intensified in 1996 when thousands of activists blockaded the Headwaters Forest, a 60,000 acre tract of predominantly old-growth redwoods about 30 miles from the Mattole. Under a 1999 agreement with the federal government, Pacific Lumber agreed to set aside 7,470 acres of old-growth forest and to abide by stricter conservation standards than those mandated by California law.
Orphans of the Headwaters
The Mattole was one of the "orphans", as Brown puts it, of the Headwaters agreement. Lands not covered by the deal are subject to business as usual. In return for selling a fraction of the Headwaters acreage for $460 million, Pacific Lumber is allowed to legally log the rest of its private holdings.
"What's the point of protecting the old growth and a small buffer around it, if you're going to allow them to log the rest of the watershed area and make the forest uninhabitable for the creatures that live there?" Brown asked.
The activists claim that Pacific Lumber seeks to "fragment" the forest with its initial clear cuts, making it uninhabitable for endangered species such as the northern goshawk and the northern spotted owl. Once freed from having to follow the mandates of the 1973 Endangered Species Act, Pacific Lumber would then be free to accelerate its assault on the rest of the Mattole.
"It's so planned," Leandro said. "It's easy to see."
Digging In
Though Bullwinkel says Pacific Lumber is "not a willing seller", activists are calling on Hurwitz to impose a one year moratorium on all logging in the Mattole. They are trying to raise funds to buy back at a fair market price all 14,000 acres that Pacific Lumber holds in the Mattole. Evenson estimates the price tag to be $30 million. Once repurchased, the property would be put into a community land trust designed to safeguard the health of the forest and its watershed while allowing locally based logging to proceed at a sustainable pace.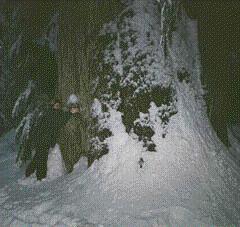 "When the landholders are residents, we listen to each other," Evenson said. "We have community standards to live by."
Activists are hoping (dreaming?) that the Office of Thrift Supervision (OTS) will hold Hurwitz responsible for the failed S&L and that they will then be able to engineer a debt-for-nature swap. Meanwhile, about 30 activists remain out in the woods at all times. Many more locals are ready to resume blockading the logging roads at the drop of a hat. While Pacific Lumber is expected to try and resume heavy logging when the rains abate in May or June, the defenders of the Mattole are considering inviting forest activists from around the country to join them this summer.
"We have 15 years of direct action experience. We're not amateurs," Brown said. "We know how to do a non-violent direct action campaign. We will dig our heels in until they leave the forest."
NOTE: The Mattole Forest Defenders Hotline# is (707) 441-3828. Charles Hurwitz can be reached at (713) 975-7600 (ph.) or (713) 952-4795 (fax)
This story appears in the February 2001 Houston Peace News. Photos by Jeannette Wallis.