Back to On the Road with John Tarleton
WBAI Supporters Take to the Streets
by John Tarleton
April 30, 2001
NEW YORK CITY—A thousand supporters of WBAI (99.5 FM) marched across the Brooklyn Bridge Saturday demanding that the historically eclectic, left-wing station be returned to community control.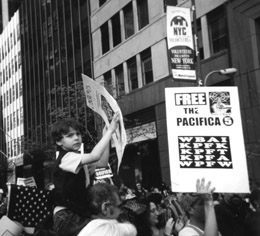 "The few popularly controlled institutions in our society need to be defended," said Michael Hirsch of Manhattan, who was marching with his nine-year-old daughter. "Itís a no-brainer."
WBAI is the crown jewel of the 5-station Pacifica Network. With its transmitter mounted atop the Empire State Building, the listener-funded station has provided fiercely independent coverage of community, national and global issues for 41 years. However, since the parent Pacifica Foundation fired the station manager and changed the locks on December 23, 2000, WBAI has been in a state of upheaval as the new management tries to shed its activist listener base in favor of a more upscale (and depoliticized) clientele.
Seventeen staff members, including Amy Goodman, Bernard White, Robert Knight, Mimi Rosenberg, Ken Nash, Al "Grandpa" Lewis and Deepa Fernandes have been partly or fully removed from the air by interim station manager Utrice Leid. Others, like award winning journalists Juan Gonzalez and Mario Murillo, have resigned in protest. According to Fernandes, old friends have been pitted against each other and staffers now talk in whispers when they are on the phone.
As for herself, Fernandes remains in limbo. The shows that she produces ("Behind the News" and "Our Americas") have been pulled from the air. But, she has yet to be officially fired.
"Itís hell to be a producer at WBAI right now," Fernandes said. "You have to psyche yourself to go in there."
On the March
Saturdayís march began at 1 p.m. in front of Brooklyn Borough Hall, crossed the bridge, snaked past a barricaded City Hall, wound its way through the concrete canyons of the financial district before arriving at 120 Wall St., WBAIís home. "Chanting Free speech under attack. What do we do? Fight back!", the marchers were greeted along the way with a sporadic chorus of honking horns from passing motorists. The crowd was diverse and multi-racial and a substantial percentage of the participants were young people.
"íBAI speaks to me," said Debra Michaud, 27, of Montclair, New Jersey. "And I think it speaks to a lot of young people who are dissatisfied with the System."
Emma Roderick, a sophomore at Hunter College high school in New York agreed. She is active in the Student Committee on Labor Exploitation and the Union of Free Youth of New York. "íBAI has done a lot to advance different youth movements," Roderick said. "Now that theyíre in trouble, we need to help them."
Organizers from concerned Friends of WBAI, Community for Progressive Radio and the Campaign to Stop the Corporate Takeover of Pacifica hoped Saturdayís event would put more pressure on WBAIís new management as it begins a crucial May fundraising drive. They are asking listeners to withhold pledge money to WBAI and redirect it toward supporting groups that are resisting the corporate takeover of Pacifica including the litigants in three separate lawsuits against the Pacifica National Board.
"Itís up to the listeners now to save this station," said Bernard White, WBAIís former program director. "The only voice you have now is the money you withhold from the station."
"Freedom of Speech Means Access to the Airwaves"
Congressman Major Owens (D-Brooklyn), who was censored on-air during a March 5 appearance on WBAI, announced that there would be congressional hearings about the Pacifica situation later in May. He encouraged WBAIís supporters to keep up the pressure.
"People on the Left who are trying to do things that would help the great majority of people donít understand that you arenít communicating unless you have control of mass communications," Owens said. "Printing up and handing out leaflets is not enough. In 2001, freedom of speech means access to the airwaves."
Afterwards, about 120 people gathered at the Walker Street Theatre for a teach-in/film screening/dance party sponsored by the Pacifica Listeners Union that went late into the night.
Links
Save Pacifica.net
Campaign to Stop the Corporate Takeover of Pacifica
Concerned Friends of WBAI
Community for Progressive Radio
Pacifica Listeners Union
Official Pacifica Web site
Back to Pacifica Rebels Turn Up Volume