Back to On the Road with John Tarleton
Angry Listeners Tune Out WBAI Fund Drive
by John Tarleton
June 12, 2001
"English is a sub-language of Yoruba badly spoken. Please help us debunk the lies of our times. Please call in to support us at 212-209-2950."--Diabel Faye, WBAI Public Affairs Director, June 5, 2001
NEW YORK CITY--WBAI's efforts to fire its audience and bring in replacement listeners appears to have foundered during its recent spring fundraising drive.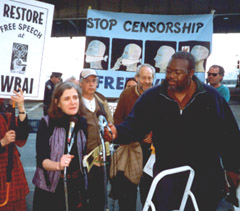 The station's 20-day spring fund drive netted $350,000-$400,000, or less than half of the $850,000 it normally takes in during its spring drive, according to organizers of the Campaign to Stop the Corporate Takeover of Pacifica (Pacifica Campaign) as well as a longtime WBAI (99.5-FM) producer who has been in contact with this reporter.
"They (WBAI management) are going to look at some serious changes after this debacle," said Dan Coughlin, former director of Pacifica Network News (1998-1999) who is now working as an organizer for the Pacifica Campaign. "If you're the general manager this can't continue."
WBAI interim general manager Utrice Leid was unavailable for comment.
The New 'BAI
WBAI's fund drive began inauspiciously on May 16 with the pre-emption of Democracy Now!, the station's most popular and well-known program, for the duration of the drive. WBAI's phone lines were paralyzed at times with angry calls. A couple hundred people rallied May 24 in front of the station at 120 Wall Street, and daily vigils were held in the morning and late afternoon.
The historically left-leaning Pacifica Network was launched in 1949 by a World War II conscientious objector. It has been engulfed in a protracted leadership struggle since the mid-90s. The network's other four stations in Los Angeles, Houston, Washington, D.C. and Berkeley have all been subjected to varying degrees of corporate control. Last December, the battle for Pacifica spilled over into New York when the parent Pacifica Foundation fired WBAI general manager Valerie van Isler and subsequently banned or fired 20 other programmers and producers.
"I've noticed a lot of difference in the past five months," said Gabriella, a New York City Parks Department employee who has listened to WBAI for 23 years and who attended the May 24 rally. "There's no analysis to the news. Now, they just read it." Gabriella gave $175 to the station last year. This year, nothing.
WBAI's programming oscillated wildly during the fund drive. Where the station once emphasized probing, hard-hitting public affairs coverage, it now pitched a grab bag of cultural chauvinism, dimestore New Age spirituality and the works of right wing anti-Semitic conspiracy theorist Jim Marrs.
"It was painful and tragic to have a station of such intellectual heritage revert to such a vulgar interpretation of history," said Mimi Rosenberg, a 30-year volunteer who produced "Building Bridges: Your Community and Labor Report" until she was banned from WBAI in February.
"I'm not sure they are clear what they are doing right now," added Eileen Sutton, a banned WBAI reporter. "They are throwing a lot of pasta at the wall to see what sticks."
Morning Vigil
Coughlin was a regular at the morning vigil, along with a half-dozen other disenchanted listeners. Where once he began his days at 7:30 a.m. by assigning stories for the Pacifica Network News, he now stood on the sidewalk with a picket sign.
"An anti-activist ethos has gripped Pacifica," Coughlin said. "What they hate most are activists who get in people's faces and challenge those in power."
Coughlin said he was heavily criticized by fellow Pacifica staffers and management for the network's coverage of the Kosovo War. The final straw came in October 1999 when Coughlin read a 20-second report about the one-day boycott of Pacifica's national programming by 16 of the network's affiliates. He was removed from his position soon thereafter.
Sutton was one of 43 Pacific stringers who subsequently struck Pacifica over Coughlin's firing and other alleged acts of censorship within the network. The stringers then started their own half-hour newscast, which is now carried daily on 35 stations across the country.
"Better to die standing up than to live on your knees," Coughlin says, echoing the words of Mexican revolutionary Emiliano Zapata.
For Mary Delano, a researcher at the New Jersey Institute of Technology in Newark, the daily trek into the city was a long but worthwhile detour. She stood quietly each morning at the entrance to 120 Wall Street holding a homemade sign that read, "If world peace was dependant upon our reconciliation, would you reconcile?"
"They don't have respect for the invaluable radical voices that are people who make real changes in society," Delano said.
Inside the Station
On Monday June 4, an affinity group of 18 irate listeners called LOUD RAPP (Listeners Outraged, Upset and Determined to Restore a Progressive Pacifica) marched into the station chanting "Take Back WBAI" and "Restore Progressive Radio" briefly disrupting Marjorie Moore's morning show. Later that morning, IMC reporter Kevin Prichard was allegedly assaulted by WBAI employee Paul DiRienzo while trying to interview staff and volunteers at the station.
"Those who used to fashion themselves as radical journalists are now attacking other journalists," Sutton said. "It's a very dark moment."
Pacifica's overall spring fundraising at its five stations was down 20% from an expected $2.3 million to $1.8 million, according to the Pacifica Campaign. Next confrontation: June 30-July 1. The Pacifica National Board, which is currently being sued by listeners, dissident national board members and four of the network's five local advisory boards, will meet in New York.
Back to WBAI Supporters Take to the Streets
Back to On the Road with John Tarleton